Business Cards, Letterhead, and Envelopes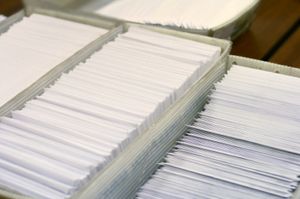 Searching for a new look? We can give you an impressive identity package including new letterhead, envelope and business card printing in Little Rock, Arkansas. Sure to impress any recipient, a refreshed identity package will give your organization an updated, professional image.
Letterhead Printing
A custom letterhead is a perfect way to brand yourself easily with all of your mail. A custom letterhead will give your business a professional sense of credibility, and our commercial letterhead printing in Little Rock, Arkansas is here to make sure your letterheads look perfect. 
Envelopes
We have a variety of envelope sizes and styles as well!
Business Card Printing
Need a new custom business card design for your business in Little Rock, Arkansas? You've come to the right place. We have everything you need to bring your business card to professional and credible look that it deserves! No matter how many business cards your need for yourself or for your company, we can handle it. 
Or, if you're pleased with your established design, we can produce impressive letterhead, envelopes and business cards with the latest in full-color technology.
Give us a call and take the first step toward a new, fresh image today.